Clinical Training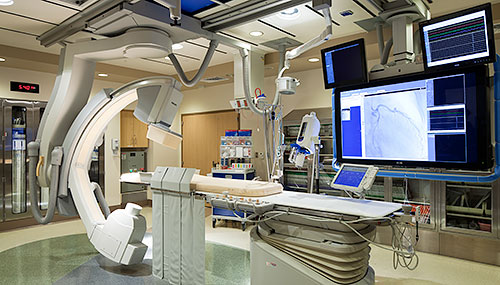 Fellows receive formal instruction, obtain clinical experience, and demonstrate clinical competence in all areas of interventional cardiovascular medicine as required by the ACGME, including invasive coronary and peripheral angiography, intracoronary physiology, intravascular imaging, percutaneous coronary intervention, structural heart interventions, left atrial appendage occlusion, and interventional procedures for acute and chronic heart failure, including hemodynamic support and pulmonary artery pressure monitor placement.


During the ACGME-accredited year of training, fellows will be immersed in the full clinical spectrum of interventional cardiology including outpatient and inpatient evaluations, simple and complex procedures, post-procedural care, and longitudinal follow-up.  Supervision is provided by a diverse core of faculty, and as clinical skills and judgment mature, autonomy is steadily granted in order to develop independent, successful interventional cardiologists. First-year fellows will split time between the UC San Diego Medical Centers and the VAMC. There are 4 cardiac catheterization laboratories (CCLs) and 1 hybrid laboratory at the SCVC, 2 CCLs at the Hillcrest Medical Center, and 2 CCLs at the VAMC.  The SCVC and VAMC are within a ten-minute walk of each other and there are ample parking and public transportation options as well.


The second year of training allows for fellows to develop the skills necessary to be expert operators.  Second year fellows take the lead on complex percutaneous coronary interventions, including left main interventions, chronic total occlusion recanalization, and high-risk revascularizations requiring hemodynamic support.  Furthermore, the fellows split time between broad peripheral and structural interventions.  During the peripheral rotation, fellows learn both diagnostic and interventional skills related to carotid, aortic, iliac, femoral, popliteal, infra-popliteal, and pulmonary vascular disease.  The structural rotation includes focused training in transcatheter aortic valve replacement, percutaneous valve repair and angioplasty, left atrial appendage occlusion, adult congenital heart disease, and closure of atrial and ventricular septal defects. 


The interventional cardiology fellowship at UC San Diego is a complete program in that it offers the basics to produce excellent coronary operators and the advanced skills to develop community and national leaders within the sub-specialties of interventional cardiology.  It is further defined by its uniqueness in providing training in interventional therapies for pulmonary vascular disease and adult congenital heart disease.  Cardiovascular care at UC San Diego stands out further due to strong relationships with the cardiothoracic and cardiovascular surgery divisions and a robust acute and chronic heart failure program that includes percutaneous and durable ventricular assist device placement and heart transplantation.


The UC San Diego Division of Cardiovascular Medicine provides a multitude of CME-based conferences.