Meet the P.I., Eric Adler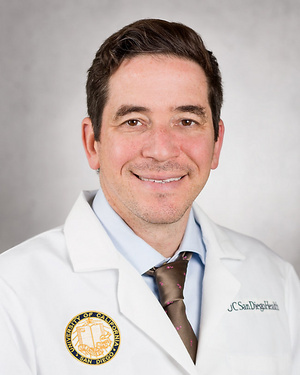 Eric Adler, MD, is a Professor of Medicine and Medical Director of the Heart Transplant Program at the University of California, San Diego. His laboratory's focus is how genetic mutations cause cardiomyopathy. To address this important topic he uses stem cells from patients, as well as mouse models of cardiac disease and human tissue.  His recent work has been the study of Danon disease, a rare yet devastating inherited cause of heart failure. 
Dr. Adler is a principal investigator in clinical trials for all stages of heart failure and is specifically involved in clinical research examining the use of gene therapy and stem cells for treating heart disease. His work has been published in leading medical journals and has been supported by the National Institutes of Health (NIH) and the California Institute for Regenerative Medicine. He earned his medical degree from Boston University School of Medicine, completed his internship and residency at the University of Washington, and Cardiology Fellowship at Mount Sinai School of Medicine. He is board certified in cardiovascular disease and advanced heart failure.
Eric Adler, MD
Clinical Professor
University of California San Diego
Department of Medicine
9300 Campus Point Drive #7411
La Jolla, CA 92037
Phone: 858-246-0631
Email: eradler@ucsd.edu