Clinical Training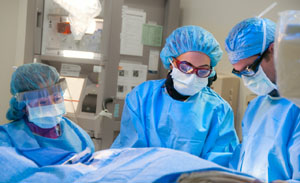 The UC San Diego Cardiovascular Diseases Program trains fellows to achieve clinical excellence in a high volume and complex patient population. The program is composed of three years of clinical training with the majority of the third year dedicated to research and elective time. Cardiovascular Disease fellows will achieve competency in the fundamentals of cardiovascular disease, including arrhythmias, acute coronary syndromes, heart failure, heart transplant medicine, mechanical circulatory support, valvular diseases, interventional cardiology, inflammatory diseases of the heart, as well as training in adult congenital heart disease, nuclear cardiology, and advanced cardiac imaging.
Fellows are exposed to a high clinical volume and patient complexity to bolster both clinical mastery as well as procedural skills. Fellows can achieve at least level II COCATS requirements for diagnostic catheterization, echocardiography, nuclear cardiology and cardiac CT as well as sufficient experience with ECG interpretation. All fellows will train among the core cardiology and cardiovascular subspecialty services provided at UC San Diego, including:
Inpatient Cardiology and Cardiac ICU: fellows will manage a complex patient population with a wide range of cardiovascular disease states ranging from floor level of care to critically ill patients requiring mechanical ventilation, mechanical circulatory support and/or emergent procedures.
Advanced Heart Failure and Transplant: fellows will manage a critically ill population including before and after heart transplant / LVAD placement including mechanical circulatory support and ECMO.
Inpatient Cardiology Consult Service: fellows provide consultative care for a wide range of cardiovascular disease states to non-cardiology services.
Echocardiography: fellows will perform and interpret transthoracic echocardiograms, transesophageal echocardiograms and supervise and interpret stress tests
Interventional Cardiology: fellows will perform diagnostic coronary angiography, left heart catheterization, right heart catheterization, percutaneous mechanical circulatory support placement, valve studies, congenital studies, percutaneous closure techniques, and pericardiocentesis.
Electrophysiology: fellows will provide electrophysiology consultative care to the inpatient population for advanced arrhythmia care as well as participate in implantable cardiac device placement, generator exchanges, electrophysiology studies, atrial ablations, ventricular ablations, loop recorder placements, pacemaker extractions, and tilt table testing.
Adult Congenital Heart Disease: fellows will provide outpatient cardiovascular care to the adult congenital heart disease population.
Advanced Cardiac Imaging: fellows will supervise and interpret coronary CT and cardiac MRIs.
Nuclear Cardiology: fellows will supervise and interpret nuclear cardiology studies (Myocardial Perfusion Imaging Tests) as well as PET scans.
Outpatient Cardiology: fellows will manage their own panel of patients at two continuity clinics located at the UC San Diego Hillcrest location and the VA at San Diego.
Fellows will rotate through all three sites at UC San Diego, including the Sulpizio Cardiovascular Center and the nearby Jacobs Medical Center, UC San Diego at Hillcrest, and the VA San Diego.